BSA No.7 Superb .297/250 Rook Rifle
£2,950.00
BSA No.7 Superb .297/250 Rook Rifle
A very rare BSA No.7 Superb in .297/250. A lovely gun in full working order. Fully (scroll) engraved. Fitted with a No.8 aperture backsight and a No.19 folding tunnel front sight.
From the BSA brochure of 1909 referring to the Special Pattern No.7…….."Those who take pride in the possession of an "arm de luxe." highly finished in every degree and with a finely figured stock, cannot do better than purchase the best quality arm. No.7  The specification is the same as that above, with the exceptions that a beautifully figured walnut stock is fitted, the grip and fore-end are chequered (a horn cap fitted to the latter), the action is border engraved, and all metal parts are polished and blued.
BSA began in June 1861 in the Gun Quarter, Birmingham, England. It was formed by a group of fourteen gunsmith members of the Birmingham Small Arms Trade Association specifically to manufacture guns by machinery. They were encouraged to do this by the War Office which gave the BSA gunsmiths free access to technical drawings and to the War Office's Board od Ordnance's Royal Small Arms Factory at Enfield. New machinery developed in the USA installed at Enfield had greatly increased its output without needing more skilled craftsmen. This new machinery brought to Birmingham the principle of the interchangeability of parts.
BSA bought 25 acres (10 ha) of land at Small Heath, Birmingham and built a factory there and made a road on the site calling it Armoury Road. Their enterprise was rewarded in 1863 with an order for 20,000 Turkish infantry rifles.
The system of management of BSA was changed in 1863 when shareholders elected a Board of Directors: Joseph Wilson, Samuel Buckley, Isaac Hollis, Charles Playfair, Charles Pryse, Birmingham mayor Sir John Ratcliffe (c.1798-1864), Edward Gem, and J.F. Swinburn under the chairmanship of John Dent Goodman(1816-1900).
The .297/250 Rook is a bottlenecked rimmed cartridge originally designed for use in rook rifles for hunting small game and target shooting.
This cartridge was introduced by Holland & Holland some time before 1880 by blowing out the neck of the .297/230 Morris Long to .250 in (6.4 mm). This cartridge is a contemporary of the .255 Jeffery Rook and upon their release the pair competed heavily with the very popular .300 Rook.
As with other rook rifle cartridges, the .297/250 Rook was superseded by the .22 Long Rifle.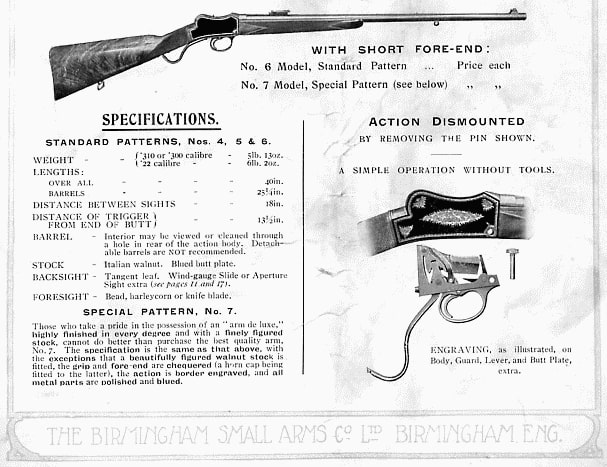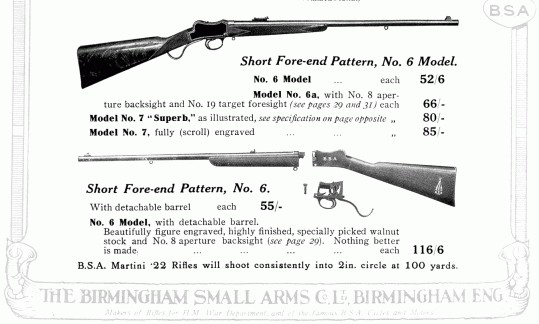 1 in stock
Description
BSA No.7 Superb .297/250 Rook Rifle