Description
Bakers Revolving Pistol
Bakers Revolving Pistol. A scarce Cased Bakers Registered Six Chamber Revolving Lever Cock Pistol 54 bore, possibly the finest example on the market at present, retaining a very high degree of original finish throughout, octagonal to round blued barrel and cylinder, lever action hammer marked Bakers Patent, engraved german silver frame with serial number also registration date, blued sliding safety catch to side of frame, walnut grips with engraved german silver butt cap, engraved steel trigger guard, all set in original oak case with trade label to lid also with accessories.
The Baker revolver is a double action "transitional"-type revolver with a six-shot cylinder. The hammer has a long cocking lever which is notched to facilitate for the sights. The sliding safety catch is located on the left side of the weapon.
Baker revolvers can be identified by markings on the body and barrel, as well as the hammer. Typically, percussion revolvers of this type that utilize a cocking lever on the hammer will have markings reading BAKER'S PATENT, REGISTERED APRIL 24 1852.
Thomas Kerslake Baker was granted British Patent No. 3230 of 24 April 1852 for his 'long-spur hammer'. See A.W.F. Taylerson, R.A.N. Andrews and J. Frith, The Revolver 1818-1865, 1968, p. 46, pl. 6 and pp. 68-69, fig. 8
Thomas Baker
Thomas Baker was born on the 25th of September, 1800. He owned a gunsmithing business at 88 Fleet Street in London, and patented a type of hammer for percussion revolver in 1852, which had a notched cocking handle attached. This hammer achieved fair popularity with British revolvers of the time. In 1857, Frederick T. Baker took over Thomas' business and produced hunting shotguns until the twentieth century. Thomas Baker passed away in his late 70's in 1879.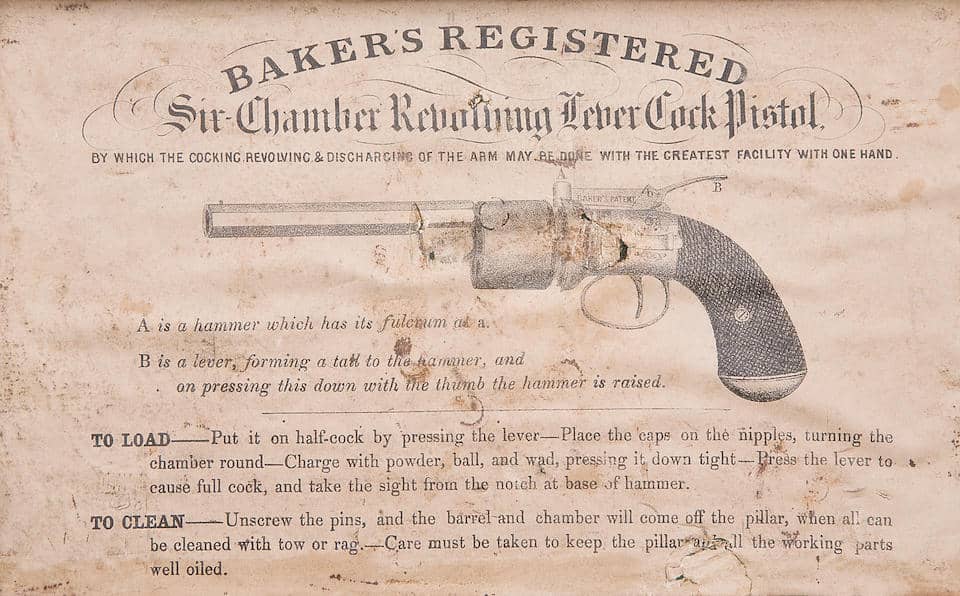 Click here for more Antique Arms