Description
Percy Tenantry Powder Horn
A POWDER HORN FOR THE 'PERCY TENANTRY VOLUNTEERS', ALNWICK CASTLE,
circa 1798, with approximately 10in. cow-horn body, domed brass end-cap engraved with the recumbent crescent moon mark of Hugh Percy, the 2nd Duke of Northumberland surmounted with a crown, the nozzle with removable measure and numbered 'D44', twin loose suspension rings.
It was initially intended in an Act of 1778 to permit volunteers to augment the militia, however only 14 companies had been added nationwide by 1780. In 1782 a new act, (22 Geo III c.79), allowed raising of volunteer forces by local subscription, with a wealthy land-owners or businessman providing most of the funding, but with the government paying them for any service and allowing the men to be court-marshalled only under volunteer officers.
Volunteer recruitment early on in the Revolutionary wars proceeded slowly, mostly in the counties most likely to face an invasion. Even with the right to avoid the militia ballot, it remained slow until boosted by the act of 1798 (38 Geo III c 27, called the 'Defence of the Realm act') which allowed the raising of "Armed Associations". These were again raised by local subscription, with local gentry or a rich businessman providing the bulk of the capital who often commanded the formation. The rank of commandant depended on the number of men in the formation, two of three score for a Captain-commandant, up to 500 for a Lt. Colonel-commandant.
The largest group was the Percy Tenantry Volunteers raised by Hugh Percy, 2nd Duke of Northumberland in 1798 from his estates in Northumberland and Tyneside, and consisted of two divisions of the Armed Association of the Percy Tenantry Infantry, the Northern, four companies strong, and the Southern, eight companies, and a Percy Tenantry Volunteer Cavalry of five Troops. An attempt by the town of Alnwick to raise an Armed Association met with a hostile, almost feudal, response from the Duke, to the effect that volunteers either joined the Tenantry Volunteers or be "…deprived of his custom, [or discharged] from his employment…". On the reformation of the volunteers in 1803 the strength rose further to six troops of cavalry (at Alnwick, Lesbury, Newham, Newburn, Rothbury, Prudhoe, and Tynemouth, a total of 304 men) and 17 companies of infantry (at Alnwick, Chatton, Guyzance, Thirston, Lesbury, Newham, Rothbury, Shillbottle, Walkworth, Barrasford (two), Lemington, Newburn (two), Prudhoe (two) and Tynemouth, a total strength of 1,195 men). In 1805 a Percy Tenantry Volunteer Artillery Company was formed, attached to the cavalry, with two brass 3-pounders and other equipment supplied by the government. The artillery would not be disbanded with the rest of the tenantry in 1814, but continued with its drills with guns provided by the Duke, becoming the core of the 2nd Northumberland (Percy) Artillery Volunteers in 1860.
Militia and Volunteers of Northumberland
Click here for more horn flasks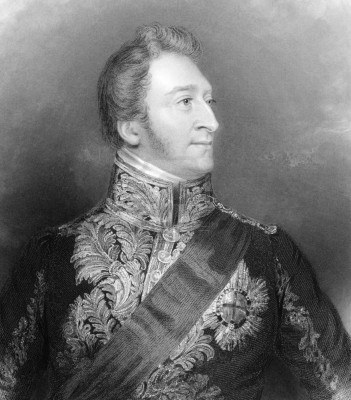 Hugh Percy, 3rd Duke of Northumberland