Description
22-BORE SARTORIS PATENT BREECH-LOADING PERCUSSION TARGET RIFLE
A FINE AND RARE 22-BORE SARTORIS PATENT BREECH-LOADING PERCUSSION TARGET RIFLE
BY A.F. BIVEN, REGENT ST. WATERLOO PLACE, NO. 145, CIRCA 1822-5
With browned twist barrel rifled with eight grooves and fitted with an engraved hinged spring-loaded lever at the breech and constructed to slide forward, foliate engraved tip-up breech with interrupted screw thread, blued folding-leaf back-sight, tang engraved with martial trophies and foliage and incorporating a windage and elevation adjustable peep-sight, foliate engraved lock signed in gothic script, hammer with detachable striker, figured full stock with chequered grip and fore-end, cheekpiece, blued steel mounts comprising butt-plate (some loss of finish) engraved with a martial trophy on the tang and foliate engraved trigger-guard with chequered spur, sling loops, and some original finish.
Anthony Farindon Biven specialised in manufacturing breech-loading rifles incorporating Urbanus Sartoris' Scottish and English Patent No. 4107 of 1817.
Sartoris patented some improvements to his design in January 1819 (British patent number 4336) and between 1822 and 1825 London gunmaker Anthony Farindon Biven manufactured both military and civilian firearms using Sartoris' system before he went bankrupt in 1826. Anthony Farindon Biven manufactured sporting and target rifles as well as examples of smoothbore cavalry carbines in various calibres but the design never became truly popular.
THE SARTORIS BREECH-LOADING SYSTEM
Urbanus Sartoris (Satrorius) patented his breech loading system in 1817 (Patent 4107) and 1819 (improvements Patent 4336) around the time that Durs Egg was also producing his breech loading flintlock. Sartius's main contribution appears to have been the handle and operating mechanism, which seems to be ingenious and well made, but like most of the attempts to fit a breech-loading mechanism into a flintlock or percussion gun, doomed to relative obscurity by the problems of gas leaks and fouling. Sartorius had sproting guns and rifles made by Anthony Biven, and a number of military carbines were made., although the total number is not known. Anthony Biven was in business from 1822 to 1825 at 16 Regent Street, London.
In March 1817 Urbanus Sartoris, a Parisian (possibly Milanese) merchant and inventor living in London, patented his breech-loading system (British patent number 4,107). The system built upon an earlier design by Giuseppe Crespi. Sartoris' system used an interrupted thread screw breech which could be unscrewed by twisting the barrel (see image #3). This would allow the chamber block to rise up to enable loading. The interrupted thread screw breech improved upon Crespi's system allowing the breech to have a gas-tight seal.
There is some variation between the surviving examples of the firearms using Sartoris' system but the basic method of loading remains the same. The spring-loaded handle on the barrel lifted and turned, this unthreads the breech locking threads opening up the action (see image #1). The barrel can then be pushed forward (not unlike Frederick Prince's later system), this allows the breech chamber to be lifted to enable loading of powder and ball. The chamber would then be depressed again and the barrel brought back and turned locking the breech threads. The method of ignition varied over time with early examples having a flintlock while others had Alexander Forsyth's 'scent bottle' detonator lock ignition system and others were later adapted to use percussion caps as they became the standard in the mid 1800s.
J.N.George in his 1947 book 'English Guns and Rifles' also mentions Sartoris at page 180, and was clearly impressed by the improvement that the interrupted thread locking system gave the carbine over the Egg breechloading flintlock – in fact the interrupted thread system used (invented?) by Sartoris went on to become standard on most large calibre artillery.  The Sartoris breechloader came at the very end of the flintlock era  – the first percussion patent was 1807 and the tubelock was being made by Joseph Manton about the time that Biven was making the Sartoris guns, so although one or more were subsequently converted to percussion, it really missed the boat!
Extract from :  Page 87 of  Howard L Blackmore ' British Military Firearms 1650 to 1850'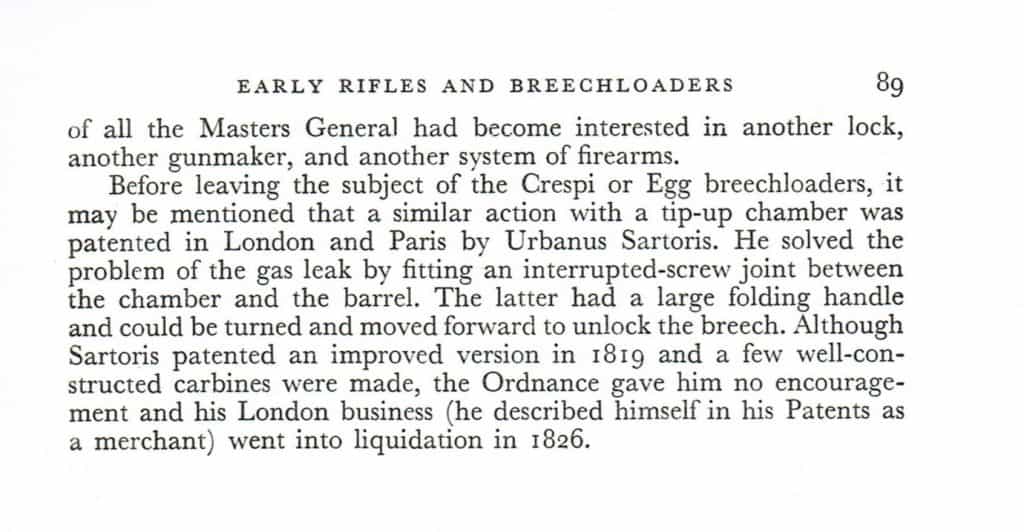 Sartoris Breech Loading System
Click here for more Antique Arms